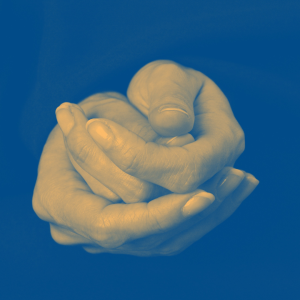 Newly hired as a Communications and Marketing Coordinator, I am given a profound introduction to Citizens Advice Barnet when I sit in on an advice appointment. I am assigned Danielle, a veteran volunteer and generalist advisor for her first session of the day. This is what I see:  
Danielle's client walks into the hall gently pushing a pram holding a curly-headed boy and pulling along twin girls with the same wild hair. Three sets of dark, happy, and curious eyes give me the once over as they enter the corner room. Seated, she uses all of the attention available after keeping her children in, frankly, miraculous order to listen to Danielle.
What's immediately clear are two things: one, this woman needs an interpreter and, two, she is drowning. She has three kids, a violent and newly absent husband, an apartment she can't afford, and a lot of paperwork neatly folded in her handbag that amounts to thousands of pounds that need to come from somewhere.*
After searching through the papers already uploaded to the system, the papers in her handbag and the Universal Credit numbers on her phone, and asking many questions in slow, patient English, Danielle determines that she has reached her benefit cap. And though there are a few pounds here or there – in particular, the child element granted for twins to be applied for and, rightly, won – and foodbank vouchers that Citizens Advice Barnet can provide, there is a limit to the amount of money she can receive; and that amount is not enough to cover food and rent. Or even rent alone. 
Just like someone seeking support and advice, the supervisors at Citizens Advice Barnet later find a few moments to help me to (almost) understand that though Universal Credit benefit caps can be lifted for a multitude of reasons, they cannot be lifted for people with children under the age of three even though other benefit programs apply this exemption. 
To lift her benefit cap, she will need to work. As a mum facing a nursery bill for one child, I wonder, how will that work? 
Let's do the maths: She has three children under four years old. Assuming there is space and she can start immediately, which are big assumptions (if you know, you know), it will cost at least £200 to pay for daily care (£65 per child plus food). While there are childcare credits available, she must first pay for childcare and later claim back the amount she spent. Plus, at least in my imagination, she would need to have a job that would pay enough to justify the expense. That job needs to pay more than £22.50 an hour, without considering tax, just to break even. The Living Wage in London is £11.05 an hour. The maths are not in her favour.
I am not sure how much she understands. I wonder this especially when Danielle explains that she will need to get a job to lift the benefit cap and her face remains peaceful while my own contorts with anxiety. Later, Danielle and I discuss how money raised from the team's recent London Legal Walk will cover Language Line, a phone translation service, for appointments like this one.  
She responds to Danielle's recommendation by telling us her plan to take on some alterations for a local tailor.* I wonder if the work will be formal and enough hours, the requirement is 16, to lift the benefit cap. 
When she leaves, after near-heartbreaking thanks, she does so with a plan. She has paperwork in hand and an email in her inbox outlining the next steps. Danielle has her own list of things to do including making sure she gets the child element available for twins. She's also been referred to our partner organisation, BOOST, for help with a Discretionary Housing Payment.  
It's still morning when she leaves, but the heaviness and complexity of her story has exhausted me. Danielle, however, looks energised. She's already readying herself for her next appointment when I head back to my desk.  
When I check in a week later, the child element has already been addressed. But, the woman's problems are hardly solved. Thankfully, Danielle is still on the case. 
*Some details about this person have been changed to protect her privacy.
Author's note: Danielle was able to help this woman, but there's no shortage of people to help and problems to be solved. As a local charity, our resources are limited and there's only so much we can do. You can help us do more. Our London Legal Walk fundraising page is still taking donations. By sponsoring our team, you will enable us to use phone translation in more appointments like this one.
Every pound you donate will fund two minutes of Language Line, and two minutes of much-needed advice. Any amount you're able to give would be gratefully received.
Thank you.