Volunteer Interview: Natalie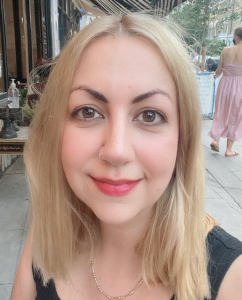 Natalie works in PR on a freelance basis while studying law part-time. As she works in corporate roles, she always tries to volunteer as a way of giving back and making a positive contribution.
What is your role at Citizens Advice Barnet?
I'm a volunteer adviser trainee.
Why do you volunteer at Citizens Advice Barnet?
I've always tried to do voluntary work alongside my regular work; for example, I've volunteered at children's charities, Freedom from Torture and more. It gives me a reason to be here, and as I've got a background in law, I thought volunteering at Citizens Advice Barnet would be ideal.
Is there anything you've done while volunteering with us that you're particularly proud of?
I'm new so I haven't really done anything on my own except the training, yet. I'm finding it very eye-opening – the lack of access for vulnerable people and the sense of injustice you feel – it really makes me want to get started and make a difference to people who deserve the help and might not even realise it.
I've been shadowing Susan and it really put the training into focus because everything in the training came out. Watching her help this particular [person], I was so sad and angry at the way he'd been treated by the system.
It was amazing to see the training in action and to learn from someone who's so good at their job.