Volunteer Interview: Juliana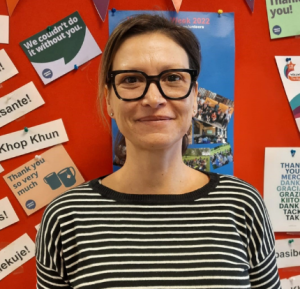 Juliana has a background in law, and more lately as a photographer, specialising in portraits and events. During lockdown, she had to stop working as a photographer and sought volunteering opportunities in human rights. As well as volunteering at Citizens Advice Barnet, she has also completed a course in human rights in education and run short workshops at her son's school to share what she learned.
What is your role at Citizens Advice Barnet?
I'm a trainee generalist adviser.
Why do you volunteer at Citizens Advice Barnet?
I want to make a difference and help out and do something that actually improves people's lives.
The lockdown made me realise that I needed to do something. I thought it was a way I could be helpful and give back. I graduated in law 20 years ago, so I want to brush up on those skills and use them to help people.
Is there anything you've done while volunteering with us that you're particularly proud of?
I'm one of the new ones so I haven't achieved much, yet, but I am proud of being recruited as a volunteer. Twenty-something people applied and only four got through, so I feel that that, in itself, is an achievement. I was really, really relieved when Gilda called.
I'm finding the training really amazing, especially the practical aspect of the training because you get to see what you've learned in action– the little perceptions are really eye-opening. I've shadowed Susan and Adrian and they are so professional.
It's amazing to have the opportunity to learn from such professional people.