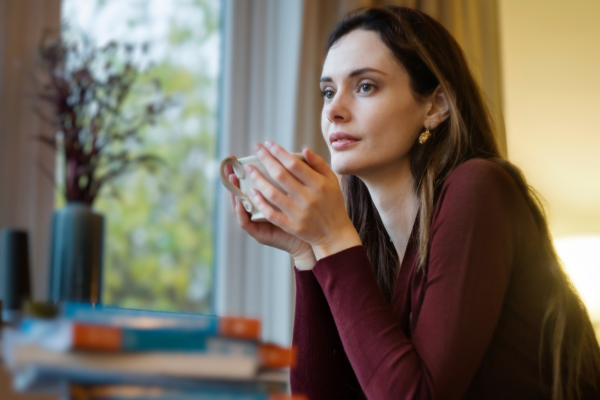 In the UK on a spousal visa, Nora was left in a difficult situation when her son's father abandoned them, leaving her destitute and caring for her severely autistic child. The conditions of her leave to remain did not allow her to access benefits and she was unable to work whilst looking after her son. Vulnerable and alone, Nora's situation deteriorated as she began to fall into rent arrears with no means to pay for food or electricity. 
"It was a very difficult phase in my life. I felt hopeless, abandoned and stressed. How would I overcome all these things because I do not have any family members here apart from a few friends?"
Nora was supported by a friend who recommended she seek help from Citizens Advice Barnet. 
Exploring her options:
Nora met with Harshida, our senior immigration caseworker, who began to help her untangle the different strands of her issue. Harshida explained that Nora could apply to change the conditions of her leave to remain. This would allow her to stay in the UK as the carer of a British child rather than as a dependent of her husband. This would provide a 10 year route to staying in the UK but could still result in her being vulnerable to destitution without access to benefits or other public funds. Additionally, applications for further leave to remain cost over £1000, an amount that Nora was simply unable to pay. 
Working with Harshida, Nora was able to apply for a fee waiver, proving that her and her child were at risk of imminent destitution. Once this had been granted, Harshida set to work, helping Nora to complete her application for further leave to remain on the grounds of being the primary carer of a British child. At the same time, Harshida applied to the Home Office to have the 'No Recourse to Public Funds' condition lifted from Nora's application, on the grounds of her need to care for her child.  
Citizens Advice Barnet also began to provide Nora with fuel and food bank vouchers to alleviate some of the immediate danger of her situation.
"Harshida helped me with the whole process. She has been very professional, approachable and helpful. I am very thankful to her for all her help"
The wait: 
Applications such as these can take a long time to process, and in the interim Nora remained in a vulnerable position. Almost a year after her application had been submitted, she was still waiting for a decision and her situation was getting worse. She was threatened with eviction and desperately needed access to benefits.
Harshida wrote to the Home Office on her behalf and within two weeks they had written back to grant Nora her leave to remain. 
When she found out the news, Nora was in tears: "I came to you and I got the help I need to move on and start a new beginning with my son."
What happens next:
Nora is now being supported by our Help to Claim team in her Universal Credit application. She is working part time and caring for her son. Although she has an uphill road ahead, she is hopeful for what the future holds: 
"Now I am still looking to find a new place to rent for me and my son. I will apply for Universal Credits and I will go for English lessons to be more independent, confident and supportive for my son."
When asked what she would say to someone in her position her answer was resounding: "I would definitely recommend Citizens Advice Barnet to whoever needs your help. I have had great service and support from Citizens Advice and especially from Harshida who had taken over my file."
"I feel grateful and very happy I came to you and got the help I need to move on and start a new beginning with my son."